Tuesday, April 5, 2011
Posted by Jon Westfall in "Android Slates/Tablets & Accessories" @ 06:00 AM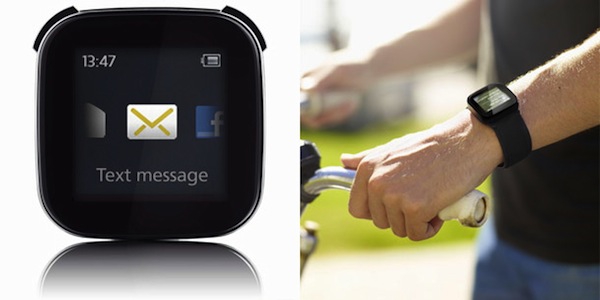 Product Category: Accessory
Price: $99.99
System Requirements: Most phones running Android 2.2, list here
Specifications: Dimensions 11.0 x 35.0 x 35.0 Weight 15.0 g, micro-USB charging, wearable on a clip or on included watchband.
Pros:
I don't have to take my phone out every 10 minutes during a meeting;
Plugin system shows promise;
Low price.
Cons:
Reconnection is a pain;
Some assembly required;
Lack of touch screen.
Summary: The LiveView is a device that acts as an "essentials" screen for your smartphone, tethering to it and displaying notifications and incoming messages. It's described as a LiveView Window to your world. But how well does it actually accomplish this task? Read on for the scoop.
Setup & Customization
The LiveView is a tethered device, meaning that it must be connected to an Android phone via Bluetooth, and can be worn either as a watch or clip. Installing the LiveView really is a two step process. The first step is to determine how you'd like to use/wear the device. The device can either be clipped to something (perhaps the outside of your gadget bag) or worn on a wristband like a watch. The device comes with the clip attachment already attached, which requires a small bit of prying to remove (Unlike other devices, it doesn't feel like you're going to destroy the device by removing the clip as directed). Placing it on the watch band is similar to mounting a traditional watch - you need to use the two small tension posts provided to secure it. After initially securing it, the watch band can be removed in a similar fashion as the clip, leaving them interchangeable with only small effort.

Figure 1: The included watch strap, the LiveView snaps into the bracket.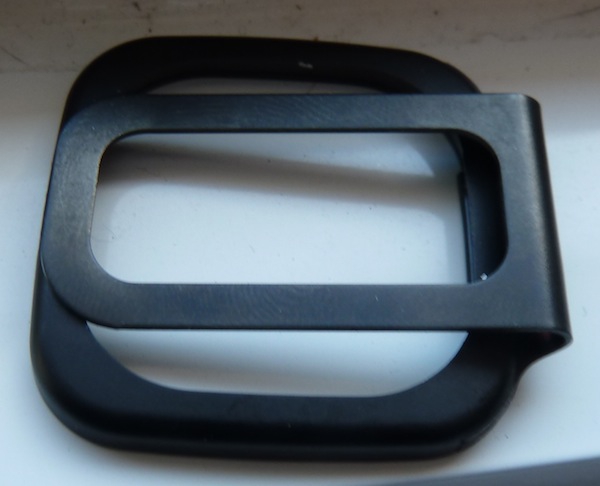 Figure 2: The clip.
Once you have the device mounted and charged, it's time to download the software. LiveView, for some weird reason, has two Android Market apps. As best as I can tell, only the LiveView Application is needed, while the LiveView LiveWare Manager is not required (even though it's mentioned in the user's manual). First though, before installing the software, you'll want to install the latest firmware to the device, found here. Otherwise you'll probably have the same connection issues that I had. After the update, the device stayed paired up for hours without a problem.
Once connected and setup, all configuration is done on the device. The LiveView has two buttons, a power button on the left and a selector button on the right. You can also tap on the borders of the screen to scroll through options. However simple things, like clearing the notifications, must be done on your phone. The plugin system - around 15 are currently available - lets you extend the built-in features (messages, Facebook, Twitter) along with things like Gmail, media player controllers, and the OpenWatch API, which comes quite in handy if you decide to do a bit of hacking and customizing!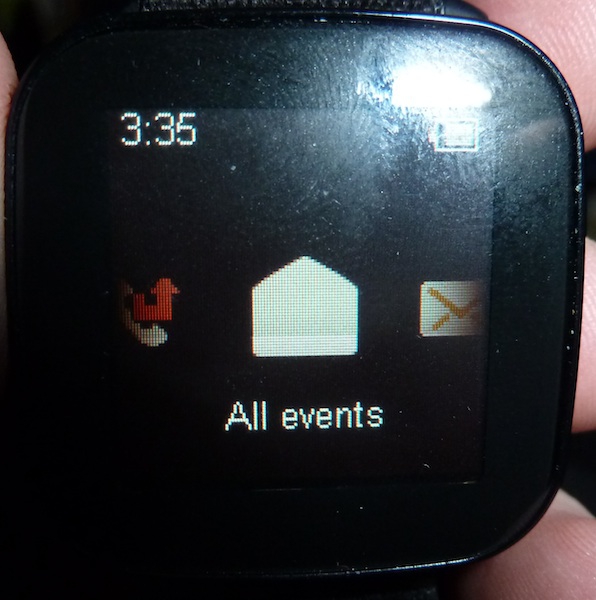 Figure 3: The LiveView's Scrolling Menu. Tapping on the left or right border of the screen advances to the next / previous item.
Hacking
A product like the LiveView is something I think of as just begging to be hacked. It's existing software is by no means exhaustive of what it could be capable of. One of the neat things about it is the built-in plugin system, which allows you to download software to enhance a few key elements (i.e. control music players other than the default). Taking it a step further, you can also download an OpenWatch API plugin that will allow your phone to send OpenWatch commands to the LiveView. Pairing this ability up with, say, Tasker, a well known android scripting application, provides nearly limitless potential for communicating specific information to your LiveView. It's a bit sad that the device isn't more full featured to start with, but having the ability to flesh it out with your own scripts should make any power user smile.
Conclusion
Overall the LiveView offers a lot of potential, with only basic features built in. While highly novel in hardware implementation (i.e. the ability to switch from clip to watch, touch sensitive D-pad), it's software is lackluster, only providing basic support. Through plugins and scripting one can get much more use out of it (i.e. it can control music playback, volume, and also trigger Tasker events), but that does come at the price of hours of tinkering to get it exactly right. Stability, even after the update, may become an annoyance for some if they have an environment prone to disrupt Bluetooth communication.
Jon Westfall is the Executive Editor of Android Thoughts, a member of the Thoughts Media Network. In his spare time he studies how humans make decisions as a member of the PAMLab and Center for Decision Sciences at Columbia Business School. He lives in Peekskill, New York, with his wife Karey, cat, and antisocial parakeet.

Do you enjoy using new hardware, software and accessories, then sharing your experience with others? Then join us on the Thoughts Media Review Team! We're looking for individuals who find it fun to test new gear and give their honest opinions about the experience. It's a volunteer role with some great perks. Interested? Then click here for more information.

---