Friday, June 17, 2011
Posted by Don Tolson in "Android Software" @ 09:00 AM
The big difference here from the WM6 version of Spb Wallet is the synchronization section, which can only attach to an existing Gmail account (as per the Google standard for Android, I guess).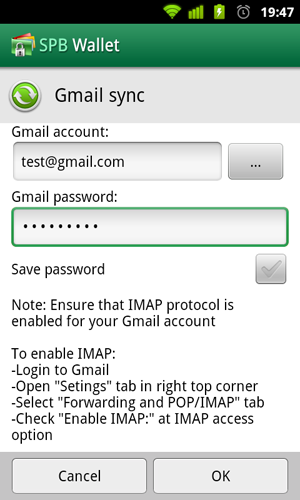 Figure 14: The Gmail sync screen where you define the Gmail account you wish to synchronize with and the password for access. You can access this from the Synchronization icon on the Settings menu shown above. I believe most Gmail accounts will have the IMAP access option already enabled, but the instructions are good to have visible. (Screenshot courtesy of Spb)
This might be convenient for the Android environment but with the recent spate of hack attacks against the Googles, Sony's and other 'clouds', this may not be where you want to store your digital wallet. It is encrypted though, so at least it won't be 'easily' accessible.
As described on the screen, the IMAP protocol on the Gmail account has to be enabled. I'm not sure why, since all the synchronization does is send an email to the account with the wallet file (.SWL) as an attachment. It does place it in an specific SpbWallet folder in the account inbox, so maybe that's why it needs IMAP. Personally, I would call this more of backup rather than synchronization. According to Spb, there is work underway on a 'sync with a PC' version of the software like they had in the WM6 world, but they couldn't give any dates as to when it might be available.
Conclusion
SpbWallet for Android is a worthy addition to the SpbWallet family of products and takes full advantage of the Android platform. It's simple, straightforward, and easy to keep all the passwords and other private information stored here. Better integration with other platforms would be much appreciated (i.e. being able to read the .SWL wallet file from the WM6.x version I already have). The 'synchronization' part of this application needs to have a PC-readable/modifiable version of the wallet and true sync -- not just backup to email.
Don Tolson is a Lead Solution Architect with Fujitsu Consulting in Canada, specializing in privacy and security in the mobility space. He has been using digital wallets on various Windows Mobile platforms for years. Now primarily on WP7, he's anxiously awaiting more or Spb's products.

Do you enjoy using new hardware, software and accessories, then sharing your experience with others? Then join us on the Thoughts Media Review Team! We're looking for individuals who find it fun to test new gear and give their honest opinions about the experience. It's a volunteer role with some great perks. Interested? Then click here for more information.

---